Centre for Urban Policy and Local Governance
Most Canadians now live in cities and large metropolitan areas. Social, economic, and environmental policymaking by all levels of government is increasingly urban in its focus.
 
Western's Centre for Urban Policy and Local Governance (CUP-LG) was created in 2017 to respond to the many new challenges facing local governments and urban policymakers at all levels. Bringing together academic researchers and students from across Western and beyond, our goal is to facilitate new interdisciplinary collaborations on pressing questions, to foster dialogue between academics and policy practitioners, and to communicate the results of research to policy professionals and the broader public.
 
As Western's hub for urban research, the Centre builds on the university's established strengths: the graduate Local Government Program and undergraduate Urban Development Program, the Human Environments Analysis Laboratory, and the work of dozens of faculty members and graduate students across multiple Social Science departments. The Centre is a proud member of Western's Network for Economic and Social Trends (NEST), which brings together the research centres in the Faculty of Social Science.
---
Events
DISTINGUISHED LECTURE 2020
  POSTPONED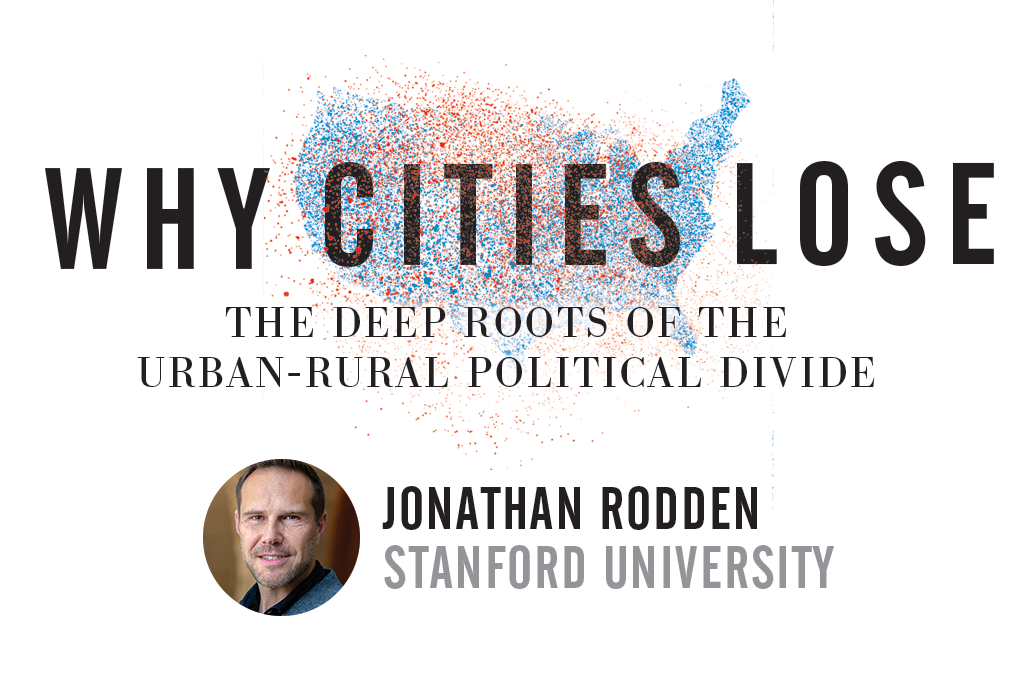 WE REGRET THAT THIS EVENT HAS BEEN POSTPONED TO FALL 2020
Why is support for progressive political parties concentrated in cities and support for conservatives in rural and suburban areas? Drawing on his new book, Why Cities Lose, Jonathan Rodden presents a bold new interpretation of today's urban-rural political polarization. Many place exclusive blame on partisan gerrymandering and voter suppression. However, Rodden shows that this polarization, and the left's electoral challenges in the United States, Canada, and other countries, have deep roots in the history of urban industrialization, and are unlikely to change without reforms to electoral systems.

Light refreshments will be served.
PUBLIC LECTURE – Oct. 17, 2019
Governing Secondary City-Regions: Lessons from Manchester, UK

Dr. Alan Harding
Chief Economic Advisor, Greater Manchester Combined Authority and Visiting Professor, Manchester Institute of Innovation Research
Thursday, Oct. 17, 2:30–4:00pm
Social Science Centre, Room 1004
How can secondary cities thrive in a competitive global economy in which large metropolitan centres seem to run away with growth? Dr. Harding discussed the experience of Manchester, UK, which has become an internationally recognized site of economic development policy innovation, institutional reform, and the devolution of national authority to local government. The Manchester experience offers important lessons for Canadian secondary cities, including London, Ontario.
---
Research areas in 2019–21
The Centre will focus on three research areas each year. Each will culminate in a research report or other publication targeted at policy professionals working in local or provincial government, non-governmental organizations, or private practice. In the future, we will solicit ideas for research areas from the policy community. 
Local Elections
Our home in London, Ontario, is the first Canadian municipality to adopt a ranked-ballots electoral system. We are monitoring this closely with a specific focus on administration. How is London preparing for the deployment of a new electoral system? And what can other municipalities learn from London's experience? Separately, faculty researchers are studying recent changes to Ontario's campaign finance rules for local elections to see what impact they have on electoral competition.
Medium-Size City Futures
What future is there for medium-size cities in a world defined by metropolitan agglomeration and global circuits of knowledge, labour, and capital? Centre researchers are studying local economic development strategies and multi-level governance arrangements that support local economies. 
Canadian Local Government Inventory
It has been over a decade since provincial legal and regulatory frameworks for local government have been comprehensively reviewed and compared. We are building an inventory of information regarding the provincial-municipal relationship in each province and territory.
The first research report, Power and Purpose: Canadian Municipal Law in Transition, was published in partnership with the University od Toronto's Institute on Municipal Finance and Governance in February, 2020.
---
Join our mailing list