News and Events
Centre Launch Event
---
The Intentional City: Shaping London's Urban Future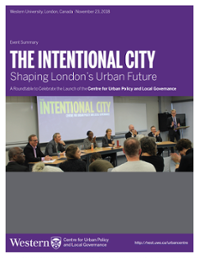 On November 23, 2018, Western's Centre for Urban Policy and Local Governance hosted its first official event: a public roundtable on The Intentional City: Shaping London's Urban Future. This was an important moment for the new Centre, signalling its goal of productively engaging scholars across disciplinary boundaries and building new relationships between Western researchers and the community. Indeed, roundtable participant Neil Bradford noted that "we underestimate Western, the convening power of the university as a neutral third space on issues"—and highlighted the potential for the Centre to play this role. 
London is at a crossroads. Neither a core global city nor a place left behind, it occupies the open middle ground of Ontario's and Canada's urban future. What kind of future do we want for London, and how do we get there? Who should lead, and who needs to be at the table? What can London learn from other mid-size cities? Fundamentally, can London be an intentional city—one that knows what it is, knows what it wants to become, has assembled the resources, including community and intergovernmental support, to get there?
Moderated by the Centre's associate director, Prof. Martin Horak, the roundtable brought together civic leaders and academics for an open public discussion of these questions. Five panellists participated: Pierre Filion, Professor in the School of Planning at the University of Waterloo and an expert in mid-sized cities; Arielle Kayabaga, Councillor-Elect for City of London's downtown Ward 13; Michelle Baldwin, Executive Director of London's Pillar Nonprofit Network and Co-Founder of Innovation Works; John Fleming, Managing Director of Planning and City Planner for the City of London; and Neil Bradford, Professor and Chair of the Department of Political Science at Huron University College.
Centre News
---
Feb. 4, 2020 NEW PUBLICATION
Power and Purpose: Canadian Municipal Law in Transition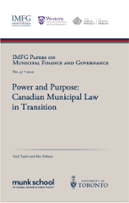 In their new report, Power and Purpose: Canadian Municipal Law in Transition, Prof. Zack Taylor and Western Political Science MA student Alec Dobson examine the state of municipal empowerment by presenting an overview of municipal law in Canada's 10 provinces. They identify similarities and variations within and among the provinces in how they articulate the provincial-municipal relationship, municipal powers and jurisdiction, the organization of municipal institutions, and financial powers. 
The paper is the first in a series of papers being prepared for the Urban Project, an initiative led by the Federation of Canadian Municipalities (FCM) that brings city leaders together with other levels of government, academia, civil society, and the private sector to identify actionable and scalable solutions to the biggest challenges facing Canada's cities. The paper is co-published by the Centre and the Institute on Municipal Finance and Governance in the University of Toronto's Munk School of Global Affairs and Public Policy.
---
Oct. 17, 2019 PUBLIC LECTURE
Governing Secondary City-Regions: Lessons from Manchester, UK

Dr. Alan Harding
Chief Economic Advisor, Greater Manchester Combined Authority
Visiting Professor, Manchester Institute of Innovation Research

How can secondary cities thrive in a competitive global economy in which large metropolitan centres seem to run away with growth? Dr. Harding discussed the experience of Manchester, UK, which has become an internationally recognized site of economic development policy innovation, institutional reform, and the devolution of national authority to local government. The Manchester experience offers important lessons for Canadian secondary cities, including London, Ontario.
Dr. Harding's talk were followed by remarks from Kapil Lakhotia, President and CEO of the London Economic Development Corporation.

Co-presented with the Program in Governance, Leadership and Ethics at Huron University College and the Project on Multilevel Urban Governance
---
Sept. 6, 2019 PUBLIC LECTURE
Closer Than You Think? Local Governments in Spain and Canada 
Local governments in Spain and Canada are rarely (if ever) compared directly in the scholarly literature. Yet, as visiting professor Francisco Velasco suggested in his lecture, a comparative approach reveals some striking similarities in the structure and operation of these two ostensibly very different local government systems.
Francisco Velasco is Professor of Administrative Law and Director of the Institute of Local Government Law at the Autonomous University of Madrid. While in residence at the Centre for Urban Policy and Local Governance, he conducted research on urban-rural relations in Canada and Spain as part of a major collaborative research initiative sponsored by the European Union. 
---
August 16, 2019
Centre faculty receive SSHRC grants
Centre Associate Director Godwin Arku received an Insight Development Grant for his project "

Informed Economic Development: Testing a method for better local policymaking in municipalities." With coinvestigator Evan Cleave (University of Toronto)

Centre Director Zack Taylor and Centre Associate Neil Bradford (Huron University College) received an Insight Development Grant for their project "Canada's Implicit Urban Policy." With coinvestigator Alison Smith (University of Toronto)
Centre Director Zack Taylor and collaborator Dave Armstrong (Western Political Science) received an Insight Grant for their project "The City in Canadian Political Development." With coinvestigator Jack Lucas (University of Calgary)
Centre Associate Michael Haan received a SSHRC Insight Grant for his project "Sexual Orientation and the Canadian labour market: new data and new insights." With investigators Sean Waite (Western), Nicole Denier (University of Alberta), and Andrea Wilson (Western).
---
July 15, 2019
Spanish local government law expert in residence at the Centre
The Centre is pleased to welcome Dr. Francisco Velasco Caballero, Professor of Administrative Law at the Universidad Autónoma de Madrid (UAM), who will be in residence as a visiting researcher between July 15 and September 10, 2019.  Prof. Velasco is a leading Spanish authority on local government law and the founder and current research director of the Institute of Local Government Law (idl-UAM).   During his stay, Prof. Velasco will be conducting research on urban and rural local governance in Canada.  He is the first of several European researchers that the Centre will welcome over the coming years as part of a large research project on local government and the urban-rural divide (http://www.logov-rise.eu), sponsored by the European Union. 
---
July 4, 2019
Graduate student workshop on local economic development with Dr. David Kaufmann
The Centre welcomed visiting scholar Dr. David Kaufmann of the University of Bern, Switzerland, who discussed his work on locational policymaking with graduate students in an interactive workshop.
---
July 4, 2019
Centre director featured on the Urban Land Institute's Electric Cities Podcast

Centre director Zack Taylor joined host Jeremy Warson to discuss Toronto governance and politics on the Urban Land Institute's Electric Cities podcast. Drawing on his new book, Shaping the Metropolis, Professor Taylor explored the potential for greater municipal autonomy, arguing that Canadian advocates of big-city charters should be careful what they wish for and be clearer about what problem they are trying to solve. Founded in 1936, the Urban Land Institute is a global non-profit association of land-use professionals.
---
News Archive
January 10, 2019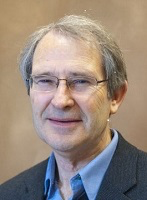 As part of the NEST's Distinguished Speaker Series, the Centre hosted a talk by of Canada's most accomplished geographers, David Ley of the University of British Columbia, entitled A Regional Growth Machine, a Great Wall of Capital, and a Metropolitan Housing Market

Vancouver was transformed by the globalization of property markets following Expo 86. A powerful growth machine developed in British Columbia as substantial Asian capital flowed into Vancouver. Prof. Ley will discuss how the B.C. government became addicted to the spinoffs from these funds, the emergence of a growth coalition composed of politicians and the real estate industry, and the deregulation of private institutions and the underresourcing of public agencies.

October 27, 2018
Prof. Bradford calls for an urban development agreement
Faculty associate and chair of the Political Science department at Huron University College Neil Bradford calls for the revival of federal urban development agreements—multi-level, federal-provincial-municipal policy frameworks tailored to specific cities' needs—in a commentary in the London Free Press. He argues that London would benefit from such a strategy and that local actors should mobilize for one.
---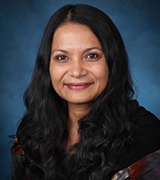 October 26, 2018
Prof. Baruah examines opportunities and constraints for promoting gender equity in green jobs
Centre Faculty Associate Bipasha Baruah will present as part of the Rotman Institute of Philosophy's Speakers Series on Global Trends in Women's Employment in Renewable and Clean Energy: Continuities, Contradictions, Disruptions at 2:30pm–4pm in the Western Interdisciplinary Research Building, Room 1170. 
---
October 17, 2018
Centre director talks local autonomy on The Agenda
Prof. Zack Taylor appeared on the October 17th edition of TVOntario's The Agenda with Steve Paikin, discussing whether cities need more powers with Globe and Mail international correspondent Doug Saunders and Enid Slack, Director of the University of Toronto's Institute on Municipal Finance and Governance. 
---
June 8, 2018
Centre director shares insights on CBC Radio panel on the Ontario election
Professor Taylor discussed the urban dimension of Ontario politics and policy on CBC Radio London's weekly morning election panel. He was joined by King's University College's Jacquetta Newman and Fanshawe College's Matt Farrell.
---
April 10, 2018
The Centre joins European local governance research network
The Centre is Canada's participant in developing a multi-national project on Local Government and the Urban-Rural Divide. Each country's research team will study the responsibilities of different levels of government, financial arrangements, and public participation in relation to the growing gap between urban and rural settlements, and to identify innovative practices to respond to these challenges.
---
March 27, 2018
Centre director discusses the politics of Toronto's amalgamation on its 20thanniversary
Professor Taylor participated in a panel discussion on "Legacies of the Megacity: Toronto's Amalgamation 20 Years Later" organized by the Institute on Municipal Finance and Governance at the University of Toronto's Munk School of Global Affairs. He was joined by former Toronto City Manager Shirley Hoy; John Matheson, former Chief of Staff to Ontario's Minister of Municipal Affairs and Housing; and Alexandra Flynn, Assistant Professor at the University of Toronto.  
Taylor gives lecture at University of Manitoba's planning school on urban resilience
March 5, 2018
Centre Director Zack Taylor gave an invited Food For Thought lecture at the University of Manitoba's Faculty of Architecture and City Planning Program on  resilience thinking in urban planning practic e. While in Winnipeg, he also met with the  Partnership of the Manitoba Capital Region to talk about what the region can learn from international experience with different models of metropolitan governance.
---
Researchers Take on a Two-Year Study to Get Kids Walking
February 2, 2018
Geography professors Jason Gilliland and Andrew Clark are studying the environmental benefits of children walking to school instead of being driven. Ultimately, they hope to change perceptions and encourage more kids to walk to school.